What I learned from PMI-CIC PDD 2020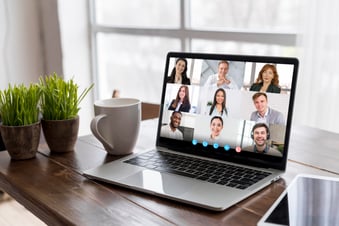 One of the things I look forward to every Fall is our Project Management Institute (PMI) Central Iowa Chapter's (CIC) annual Professional Development Day (PDD) – not just alphabet soup, PMI-CIC PDD is a cornerstone of this season. Every year since 2005, I've loved attending as a participant and a sponsor and a speaker, (and in the past, a board member and a volunteer). And this year's PDD brought some really powerful lessons to me as a participant and presenter that any one of us can apply to our daily lives, especially right now.
1 – When the situation calls for something new, do something new, and do it well.
The times we're in have demanded that we approach things in new ways. For some number of weeks or months, many individuals and groups chose to put things on hold, in a "wait-and-see" kind of approach. It's easy to do in normal circumstances and was especially tempting for many of us now. Events were postponed, cancelled, or "skipped" for the year, in hopes that next year will be better. But, after six months of waiting-and-seeing, it has become apparent that a "wait-and-see" approach isn't going to cut it anymore.
For the PMI Central Iowa Chapter, they understood this when they started planning ahead of many uncertain months. Not willing to compromise safety, they decided to host their first ever virtual Professional Development Day. They were unwilling to not host this important annual event, so they faced the challenge by doing something new.
Keep in mind that they are all volunteers, who have day jobs and personal lives that have been as impacted by the recent months as any of the rest of us.
Also keep in mind that not one person in this group volunteered for their leadership role back in late 2019 with any knowledge that the circumstances would make this great ask of them – to do something brand new in this chapter.
This particular group of volunteers took on the challenge and brought their very best game to the table. They didn't give it a partial effort and half-heartedly put something in place to "bide the time." They went all in...and they nailed it.
We had an outstanding event that went from the afternoon of Thursday 9/24 through the morning of 9/25, and if you missed it, you really missed out. If you were there, you know how exceptionally top notch this event was. Why? Because the leaders said, "Even though we've never done it before, let's do this, and let's do this well."
Practical application: Situation calling for something new? Put your own excellence and top game to work, go all in, and be great. There's an extra dose of grace right now, especially if it's new to you, so that should give you at least a little courage. Keep in mind that's not a reason to do something with half your energy, though. Go all in. Find your best self and put all of your best thought and energy and talent and drive into making it great. Do it, and do it well!
2 – Stay relentlessly committed to your purpose.
There are three key things that many of us look forward to from this particular annual professional development conference every year. We look forward to connecting with others in the network; we look forward to learning at least a nugget or two of good, applicable content from great speakers; and we look forward to earning our professional development units (PDUs) to help maintain our professional certifications.
Admittedly, connecting with others can be tricky in this virtual space, and finding the right balance of speakers who energize and build us up, "get" the project management discipline, and offer relevant content is no easy task in a "normal" year. But what about in a virtual setting, when everyone is all over the board on what they really need right now?
Throughout what I can only imagine were countless hours of thoughtful deliberation, research, and discussion, the volunteers organizing this year's PDD stayed absolutely focused on the three core missions:
Connecting us – giving us the Zoom meeting platform instead of the webinar version, and engaging speakers who invited us to connect in the chat window, on our screens, or in breakout groups.
Great content – each speaker offered valuable insights that are timely and relevant, all following a theme of navigating through uncertainty, but each with their own specific offering to help us succeed.
Earning PDUs – the planning committee made sure we were all up to speed on how to earn and record our PDUs, and they offered reminders at the beginning and end of both days.
Sure, we also enjoy PDD for the food, the "swag", the time away from our desks, and some of the other perks that come with a conference, but the planning team stayed focused on those three essential pieces, and the real purpose of the event shined. That laser focus on the three essentials of the event allowed the team to not get distracted by anything else and deliver well on what mattered.
Practical application: This world is full of distractions. I remember reading a few years ago that we as businesses here in North America can only afford to do 60% of what we want to do, which means that not only are we distracted by things outside of our control, but we're likely even distracting ourselves. Feeling like too many things are happening at once? Feeling like there's just too much to do or that it's hard to stay focused? Pick the top three things you need to focus on today or this week. Pick the top one thing you need to focus on this moment. Focus. Execute. Then move on knowing you've delivered well.
3 – When there's a goof or a gaffe, or an oops, or any kind of misstep, fix it, give yourself (or the other person) grace, and move on.
By now I think we're all fully aware of the fact that technology does indeed enable us, but sometimes, just sometimes, it doesn't do what we expect. I think we're also all super cognizant of the fact that as humans, we make mistakes (that's why they call it human error, after all). And a live, virtual event seems like it may be unforgiving. But it's not. There was a brief moment when a link didn't work, there was a pause when sound didn't come through, there was a moment when someone's slide deck didn't do what they were expecting.
Okay.
The world, it turns out, did not crash to a screeching halt. Waiting through 20 seconds of quiet with an active chat window saying "we're working on it"; healthy and open communication channels that allowed the right link to be sent with very little delay; a quick "that's not doing what I thought, we'll move on" and an "I'll do it this other way" kind of approach were all perfectly acceptable answers.
Not one person who attended the event is going to say "wow, I didn't get what I wanted out of that event because of those 20 seconds."
Not one person is going to say "not showing me the slide you expected? Forget it, then, I'm out."
That would be ridiculous! Each person that was involved in those moments simply moved on. Grace was given, the world did not end, and no harm was done.
Practical application. The quantity of distractors in our lives means that some things will get missed or forgotten, especially right now with the toddlers who show up in Zoom screens, the cats that stroll across keyboards, as well as the universal truth that multiple household members trying to share the same space or wifi signal means that glitches, hangups, and barking dogs are going to happen. The number of technically novel things we're doing means that some stuff hasn't been tested because we're trying new stuff without even knowing what we don't know. The truth of our humanity results in imperfection. And in most cases, if there's a gaffe, or an oops, that's okay! Apologize, restore the connection, and keep going!
There have been other great lessons learned at PDD as well, like these:
Our new normal is really a platform for growth that is not anchored to what was true before (John Register)
Use a sticky note to write down your very next action before responding to an unexpected interruption so after the interruption you can get right back to it (Randy Dean)
Firm up your foundation and find your rhythm to help yourself grow (and juggle) (Jeff Civillico)
Switch to high-energy phrases like "#Icangetgoodatthis" (AmyK Hutchins)
Self-care is not selfish (Patty Hendrickson)
"Build the why before you fly" (Waldo Waldman)
If the moment calls for a tiara – and sometimes those moments come, even on Tuesdays and Thursdays - then wear one (Lynn Reed)
Were you able to join the Central Iowa Chapter's PDD? What did you learn? Share with us on social media!