Five Thoughts to Help You Get Okay With Not Being Okay
Often, new seasons bring new changes, beyond simple shifts in the weather. As fall approaches, it has become apparent this season will be no different. I've heard from many folks over the last few weeks about their sense of being less than okay. There's a little bit of hesitation, fear, or even irritation that they're having these feelings of not okay. It's like we can't forgive ourselves for being anything less than okay with what's going on around us.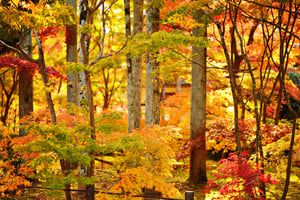 So, as a small word of encouragement for those that need it, I invite you to consider these five ideas about getting okay with not being okay. Perhaps you need them today or perhaps this is one of those posts that you save for a rainy day down the road, regardless, today we want to offer a reminder that not okay is okay.
The truth is, we can't always have mountain-top experiences. Not every day is a puppies and sunshine day. Some days have sadness, frustration, grief, or pain because of a transition we're facing. But, as we've talked about so many times before, change takes longer than we think, and so that experience of getting okay, or getting back to okay, may take a bit of time. Here are five thoughts to help you get through.
1. If you're not okay, you're in good company.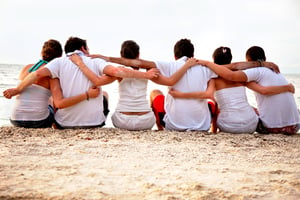 It's been said as many as 80% of us here in North America have an initial negative response to the word change. It may be fear, pain, irritation, or anger, but for some very large percent of us, the first time we hear of a change, our first reaction to it is negative.
So, if this change still feels new or fresh, I want you to be okay with the fact that your first response to it was negative. This doesn't mean your response to it will remain negative, and it also doesn't mean that it will all get better instantaneously. These things take time. Just remember it's okay if your first thought was a negative one.
2. In Order for Us to Change, We Have to Leave Something Behind.
As Semisonic so famously stated in their song Closing Time, "Every new beginning comes from some other beginning's end." Something new beginning means something old is ending, and letting go of this something old can mean a time of grief. If you are not okay with this period of change, it is likely because you are grieving something, and those feelings of loss are creating very real emotions, and that's okay.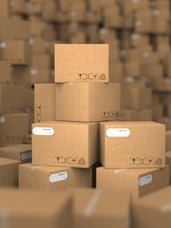 A child going off to school or college? You're losing time or the relationship you once had with them as they gain more responsibility and life experience. Summer coming to an end while fall begins? You're losing the unfettered lazy days of summer as you gain the schedule of school or busy work seasons. A child getting married? You're losing a type of relationship and the responsibility you once had while you're gaining a new family member. A project coming to an end? You're losing the groove you had with the prior team as you gain forward ground towards the next assignment.
Letting go of what you've had, especially the things you value so much, does create feelings of grief. If you're not okay with the change in this moment, stop and consider, is this feeling one of grief? And can you give yourself a little grace to get through it?
3. Fear is Fair in These Moments.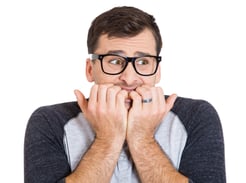 Maybe you aren't grieving the loss of something per say, but the future, the thing that you are moving towards, is unclear and unknown. The 'what if' scenarios are playing over and over in your head, and some of them have dark outcomes. If what you're feeling in this time of transition is trepidation, uncertainty, anxiety about a lack of details, that, too, is okay. It is a natural part of the transition process.
Maybe these next few months are brining a job change. While for the better, there is still uncertainty there. Maybe these next few months are bringing a relationship change. While a new marriage is exciting, there is still a little unknown in what lies ahead. It's okay to feel uncomfortable about these changes. The ground beneath your feet feels unstable and your reaction of fear is totally fair, justified, and normal. Even those who love change and transition tend to be uncomfortable with the gray in the middle. It's okay to not be okay in this moment.
4. Transition is a Journey.
It's not a switch from one step to another. It's not a quick jump. It's a process. It's a journey that begins with identifying what's going to change, letting go of where you were, grieving that loss, dealing with the uncertainty as you deal with the future, working to create new habits, patterns, or skills, and then, eventually, arriving in a state that's comfortable.
It is a journey that has ups and downs and plenty of sweat equity. If, at this moment in your journey of transition, you're not okay, that's okay. As the journey continues your emotions will adjust, and your attitude will change. There is hope on the other side if you continue to put one foot in front of the other.
5. There Are Those Who Can Help You.
Instructing you to 'Seek help' feels a bit hefty, but I mean it. What I'm really trying to convey in this message is 'Don't go it alone'. You are in a period of transition, you may feel lonely or alone, but I assure you, you are not alone.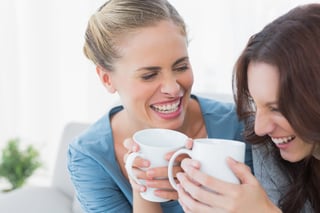 Someone else has been on a similar journey. Someone else is experiencing something right along side you. Someone else has 'been there done that' and is willing to offer help. Someone else cares about you and your feelings, and even if they can't relate to your experience, they relate to you and they care about your success and well-being.
This is one of those places where friendships are important: Collegial relationships with those you work with; small groups within your neighborhood, gym or PTO; fellowships and networks within your community or your place of worship; and even a connection to a higher power.
In my faith, I know that I am not alone because I know that God is with me through all of this. It's not one of those trite things where he'll never give me more than I can handle, it's that he'll never give me something I must handle alone, without his help.
As you think about where to seek help, look to those closest to you, those who may have a shared story, or those who have a shared faith. There are lots of places to find the hope that you need.
---
There you have it, five words of hope during times of transition. If you're in a transition right now, and you're feeling like it's not okay, don't be too hard on yourself. It's okay to not be okay. Keep moving forward, keep making progress, but don't add to the stress of transition by beating yourself up in the meantime.
One More Thought
Wednesday, September 10th was World Suicide Prevention Day and served as a great reminder for all of us that there are many things outside of change and transition that can leave us feeling not okay, especially within the reality of a mental illness. That is not something we take lightly. We encourage you to take a look at some of these resources to see how you can help, or be helped.