3 Tips for Practicing Business Analysis Where You Are
Did you know there's a profession called Business Analysis, which is essentially dedicated to helping organizations achieve their goals?
If Project Management is the art and science by which we "get stuff done", then Business Analysis is the art and science by which we make sure we're doing the "right stuff" in the first place. Maybe you're familiar with it, maybe you're not.
We've seen a lot of increased interest in Business analysis and wanted to share a little more about three ways you can practice Business Analysis right where you are. After all, don't we all want to help our organizations achieve their goals?:
1. Get a good big picture
Get a good big picture of what your organization is doing, and make sure the work you do on a day to day basis, the projects you are working on, the efforts you're undertaking are aligned with the organization's goals. Over the years, the BA community has used phrases like Enterprise Analysis, Strategy Analysis, and organizational alignment to point to a similar step:
We need to connect every piece of work we do in an organization to the organization's strategy or goal or forward movement.
Maybe you're not in an organization that has a corporate strategic plan – but you probably have a mission or a goal or a vision. Make sure your work aligns to the vision. And if you're not sure, ask. (We've got a few more tips for that too.)
2. Make time to understand
Make time to understand the people who care about the work you do, and how to best work with them to get the results you want. Business analysts (and project managers, too, for what it's worth), call this Stakeholder Management. The idea is to identify your stakeholders – everyone who cares about the work you do: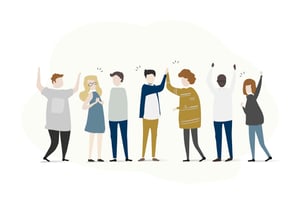 Those who are directing your work. Those who work alongside you. Those who are impacted by your work. Those who are buying or selling the results of your work. Those who are learning to do your work.
Figure out who they are, and what they need from you, then learn to interact with them in the way that best meets their needs. (Click here to learn more about communicating better with your stakeholders.)
3. Help people through change
The third edition of the Business Analysis Body of Knowledge (BABOK) defined business analysis by starting with these words: "the practice of enabling change in an organizational context…" If you are in an organization of any size, shape, or industry, you are likely surrounded by those who are driving technology, processes, and people forward.
You're probably also likely to encounter folks who are fans of the way we've been doing things, or those who haven't yet heard what's changing or why it needs to change.
You can help others through change by getting informed about the changes in your organization, and the "why" behind them. Then make time to be a listening ear and a change champion for those around you. (Click here to learn how to help others through change when they'd really rather not.)
The domain of Business Analysis is really cool – the art and science of business analysis surrounds helping organizations achieve their goals. Here in Central Iowa, we have a vibrant and active chapter of the International Institute of Business Analysis, with a whole bunch of awesome folks who help others help their organizations be even more awesome. We've been proud to be affiliated with the chapter for many years (Sinikka is a BA and a member of the chapter, Your Clear Next Step has long been a sponsor of the chapter and its many events.)